OUR HOTEL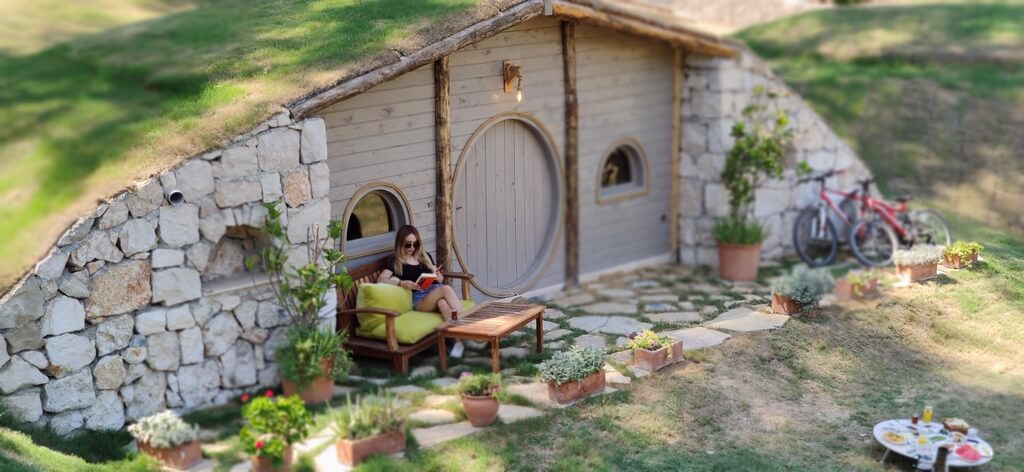 Hobbit Houses
12 Hobbit Houses with Green Roofs
How about a privileged holiday experience on this summer in a peaceful environment intertwined with blue and green?
For an accommodation experience beyond the standards, we would like to introduce the living spaces of our Hobbit Houses.
How does it sound to start by waking up to a beautiful summer morning and enjoying the peaceful nature?
An unforgettable holiday experience awaits you and your family in Hobbit Houses where you will not look for the comfort of your home and meet all your expectations…
Accommodation
A Peaceful Living Area Special for You on Holiday: Hobbit Houses
12 Hobbit Houses made of cedar trees, uniquely designed, comfortable and intertwined with nature…
By the help of 12 different types of private accommodation offered by the Hobbit Houses; It combines aesthetic comfort with the privacy and privileged services provided by a private living space for you and your family.
Our Hobbit Houses have comfortable beds, private bathrooms, televisions, mini bars and air conditioning.
Luxury living spaces; promise a high-level accommodation experience that goes far beyond of the standards of hotel rooms and also aesthetics, the comfort and amenities they offer.
Located in the middle of the pine forest, only 3 km from Olympos Beach,
our Hobbit Houses are within walking distance to the sea.
Discovery and Life
There is a short distance between you and the sea where you can walk through the forest.
There is fun in the forest in Olympos such as joining cycling tours, boat trips, fishing in the deep blue sea, listening to the sound of the relaxing nature and entertainment!
Sea, sand and sun trio at every moment of your holiday…
You can also spend time in the pool of our other hotel concept Olympos Village and enjoy the sun on its sun loungers.
Delicious and Organic Breakfasts
You can accompany our breakfasts, which are decorated with vegetables and fruits that we collect from the garden.
You can visit our related webpage to get more detailed information about the properties and possibilities of our Hobbit Houses and to easily book online if you wish.